The 11th and 12th of September 2017, EE-METAL partners met in Szczecin, in Poland for the project workshop.
The meeting was carried out following previously agreed agenda. EE-METAL partners have summarized the deliverables and reports due in the third semester and have discussed deliverables, meetings and reports due in the fourth semester. The leaders of the respective WP's have presented the planning for next actions. It was a good occasion to work together and discusse about future undertakings.
The host of this 4th meeting was MP Polskie Klastry Ltd., which is the coordinator of METALIKA Metal Cluster.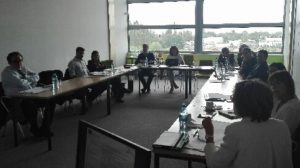 The workshop took place at Univeristy of Szczecin where is located Business & Science Meeting Point of the METALIKA Metal Cluster.